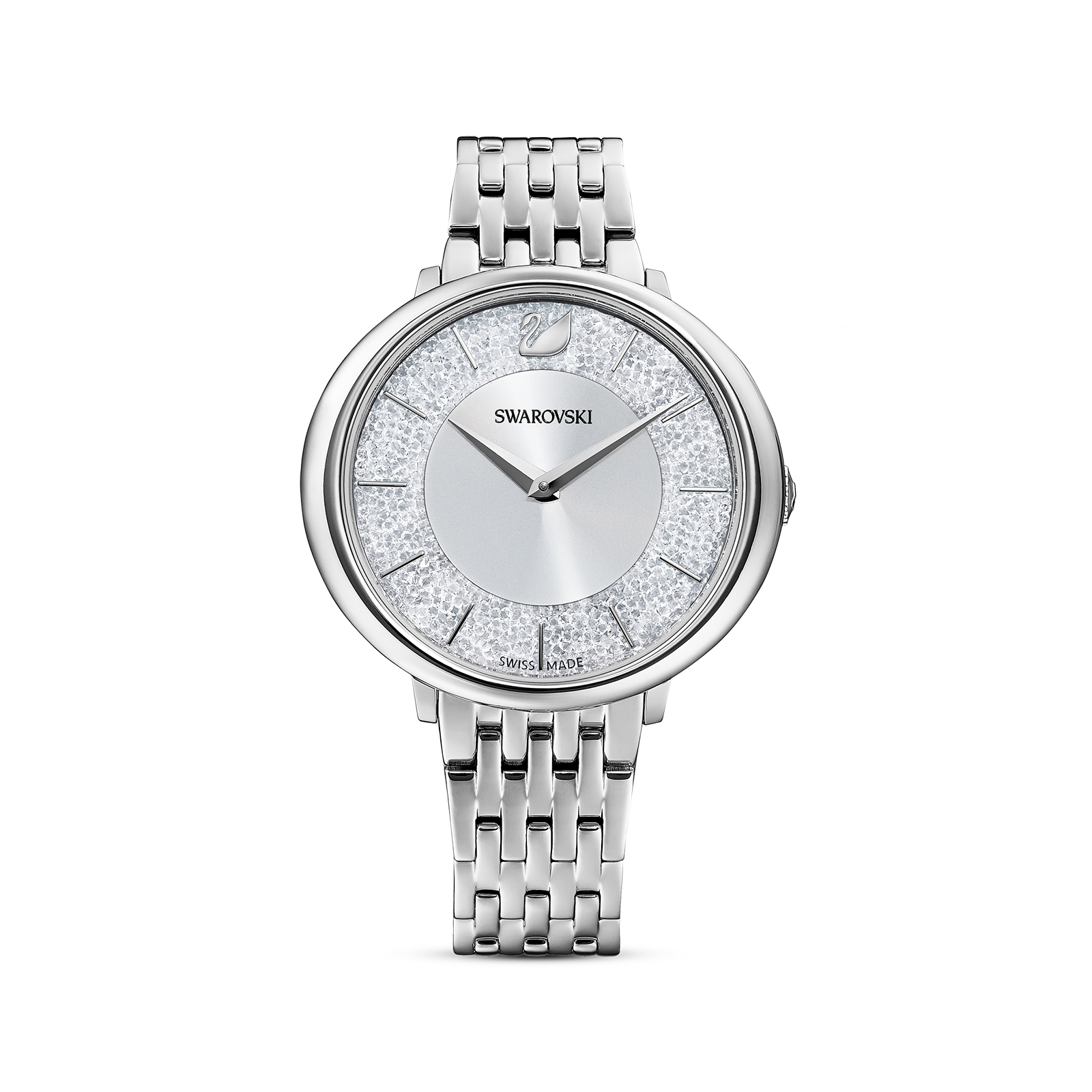 Silver Watch Crystalline Chic Metal Bracelet Stainless Steel With Silver Stones
330,00 €
5544583 The design for this watch by Swarovski is inspired by the serene beauty and purity of raindrops. This imagery is emphasized by the flowing shape of the stainless steel case, which is filled with approximately 1,000 sparkling crystals. The silver-tone sunray dial and the sparkles create a unique contrasting brilliance. Meanwhile, a shimmering bracelet secures the watch to the wrist, making it an elegant addition to your everyday outfits.
EAN13: 9009655445830
Out of stock
Description
The design for this watch by Swarovski is inspired by the serene beauty and purity of raindrops. This imagery is emphasized by the flowing shape of the stainless steel case, which is filled with approximately 1,000 sparkling crystals. The silver-tone sunray dial and the sparkles create a unique contrasting brilliance. Meanwhile, a shimmering bracelet secures the watch to the wrist, making it an elegant addition to your everyday outfits.
Πληροφορίες Αποστολής
Παράδοση
: 1-3 εργάσιμες ημέρες
Έξοδα Αποστολής
: 4,00€ (για παραγγελίες κάτω των 29€)
Αντικαταβολή
: 2,90€ (για παραγγελίες κάτω των 29€) Παραγγελίες άνω των 29€ αποστέλονται δωρεάν.
Παράδοση
: Ο χρόνος παράδοσης υπολογίζεται ανάλογα με τη διεύθυνση αποστολής και ενημερώνεστε σχετικά από την εταιρία ταχυμεταφορών.
Εξυπηρέτηση Καλέστε μας στο (+30) 225 130 6748, ή στείλτε email swarovski@kosmima.moda.
Χαρακτηριστικά
| | |
| --- | --- |
| Weight | 100,00000000 g |
| Collection | |
| Color | |
| Size | |
| Material | |