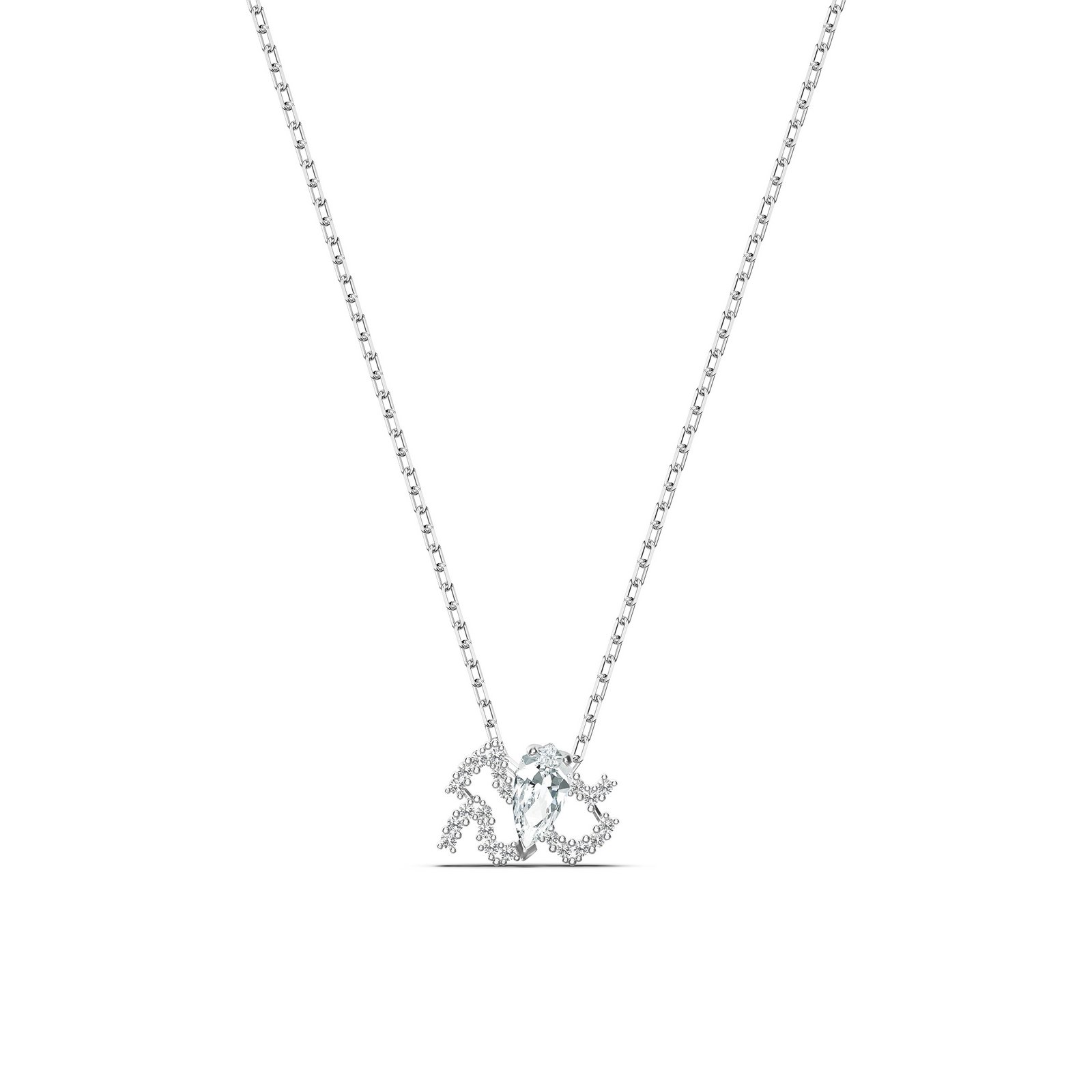 Pendant Zodiac II Aquarius Mixed Metal Finish With White Stones
85,00 €
5561421 This pendant by Swarovski is inspired by the sign of Aquarius. Representing freedom in spirit and action, it is traced in sparkling clear crystal pavé centered around a white stone, evoking the stars of the zodiac. The complementary chain is fastened with a t-bar closure that is adorned by a shimmering coin displaying a sun on one side, with elemental symbols on the flip side. Wear the closure at the back or the front, either with the zodiac motif or without it to create many different looks: ideal to personalize your style, especially when layered with matching pieces of jewelry. A perfect gift for those born under Aquarius.
EAN13: 9009655614212
Out of stock
Description
This pendant by Swarovski is inspired by the sign of Aquarius. Representing freedom in spirit and action, it is traced in sparkling clear crystal pavé centered around a white stone, evoking the stars of the zodiac. The complementary chain is fastened with a t-bar closure that is adorned by a shimmering coin displaying a sun on one side, with elemental symbols on the flip side. Wear the closure at the back or the front, either with the zodiac motif or without it to create many different looks: ideal to personalize your style, especially when layered with matching pieces of jewelry. A perfect gift for those born under Aquarius.
Πληροφορίες Αποστολής
Παράδοση
: 1-3 εργάσιμες ημέρες
Έξοδα Αποστολής
: 4,00€ (για παραγγελίες κάτω των 29€)
Αντικαταβολή
: 2,90€ (για παραγγελίες κάτω των 29€) Παραγγελίες άνω των 29€ αποστέλονται δωρεάν.
Παράδοση
: Ο χρόνος παράδοσης υπολογίζεται ανάλογα με τη διεύθυνση αποστολής και ενημερώνεστε σχετικά από την εταιρία ταχυμεταφορών.
Εξυπηρέτηση Καλέστε μας στο (+30) 225 130 6748, ή στείλτε email swarovski@kosmima.moda.
Χαρακτηριστικά
| | |
| --- | --- |
| Weight | 100,00000000 g |
| Collection | |
| Color | |
| Length | 42 cm |
| Size | |
| Material | |